There is a special kind of joy from picking up a new book and deciding to buy it, it's true. However after several incidents of walking into a bookstore and finding out the book we were after wasn't available, we took our book shopping online, naturally. If you face the same challenge, check out this list of websites for buying books online in Malaysia. May words always enchant and inspire you! Happy reading.
SEE ALSO: 6 Websites for Finding Books That You'll Love
1. Book Depository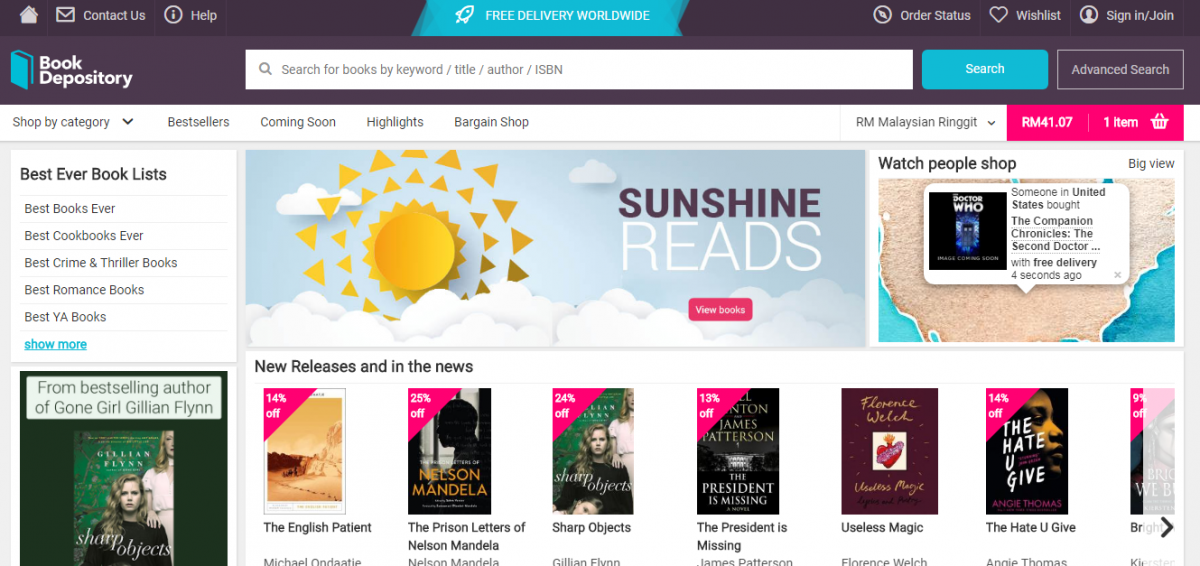 Book Depository is an online book store many people haven't heard of in Malaysia, but it's a gem. This online book store is based in the UK but delivers internationally, including Malaysia. Even better is the fact the site offers free international delivery.
Weaknesses
The only downside to buying books from this website is that delivery can take a long time. It can take from 7 to 14 days (sometimes up to 3 weeks) for an order to arrive in Malaysia, regardless if the book is shipped from their UK or Australia base.
Strengths
Book Depository is a real gem. This online book store is based in the UK but delivers internationally for free. They offer over 19 million titles at low prices. You can search the website by keywords, best sellers, 'fast movers', 'book of the week' and more. It's a good place to look for those hard-to-find books and save money by avoiding shipping costs.
Website: bookdepository.com
2. Amazon.com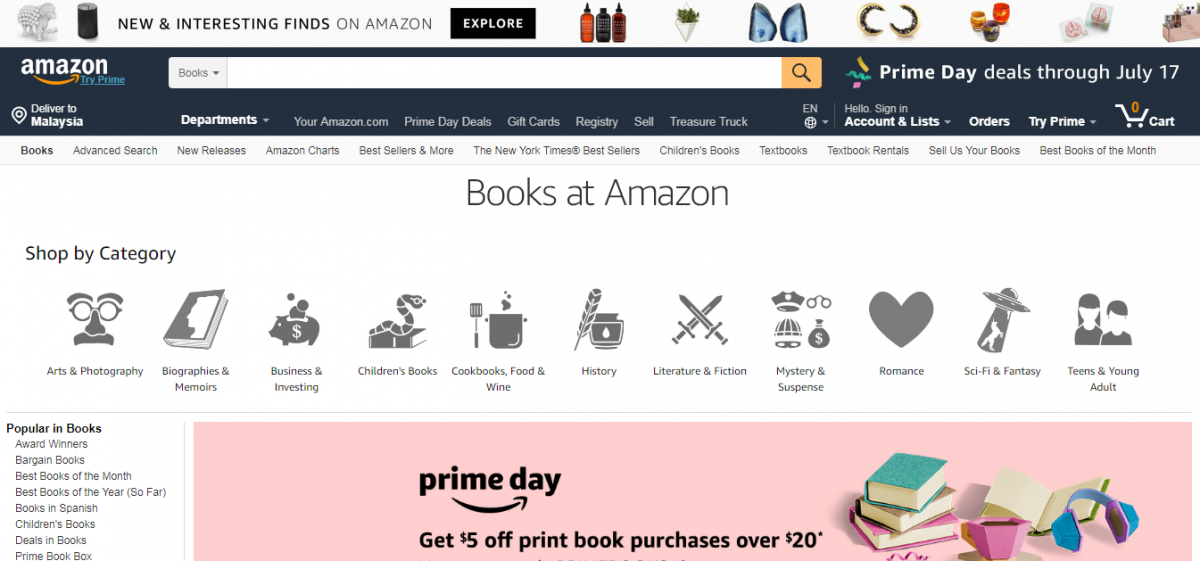 Amazon.com is the most famous online bookstore in the world, and it is the website that gave rise to the online shopping revolution. You can find almost any book and any edition that you want from Amazon.com. Best of all – they ship orders to Malaysia.
Weaknesses
Unfortunately, Amazon's shipping rates are quite steep with standard shipments rates costing $4.99 (~RM20) per shipment and $4.99 (~RM20) per item on purchases of books. Shipping rates can easily shoot up to $29.99 (~RM 125) per shipment. Priority courier shipping and heavy and bulky shipments can cost even more. However, there are products that qualify for free shipping with Amazon with a minimum spend of $25.
Strengths
The website is clean and simple with a huge search bar at the top, which makes the task of finding books a breeze. There are numerous subcategories and books are categorized based on department, format, author, promotions, awards, languages, etc. Amazon.com also offers books in many languages – far more than all the other online bookstores described here. Audiobooks and magazines are available here too.
Amazon.com also sells ebooks in Kindle format so that you can read the ebook on your Kindle. Most other online bookstores in Malaysia do not offer ebooks in this format. Unfortunately, Amazon does not directly sell Kindle and ebooks to people in Malaysia. To help, we've previously written insights about how to get a Kindle and ebooks in Malaysia.
One of the best features of Amazon.com is the user rating and book description section so that you can make an informed decision before buying any book. The site also suggests books you might like based on your browsing, which can be very intuitive and useful at times. Another useful feature is the listing of options whether the book you're after is available as brand new, pre-loved (with cheaper prices listed), and on Kindle.
Website: Amazon.com
3. Kinokuniya Malaysia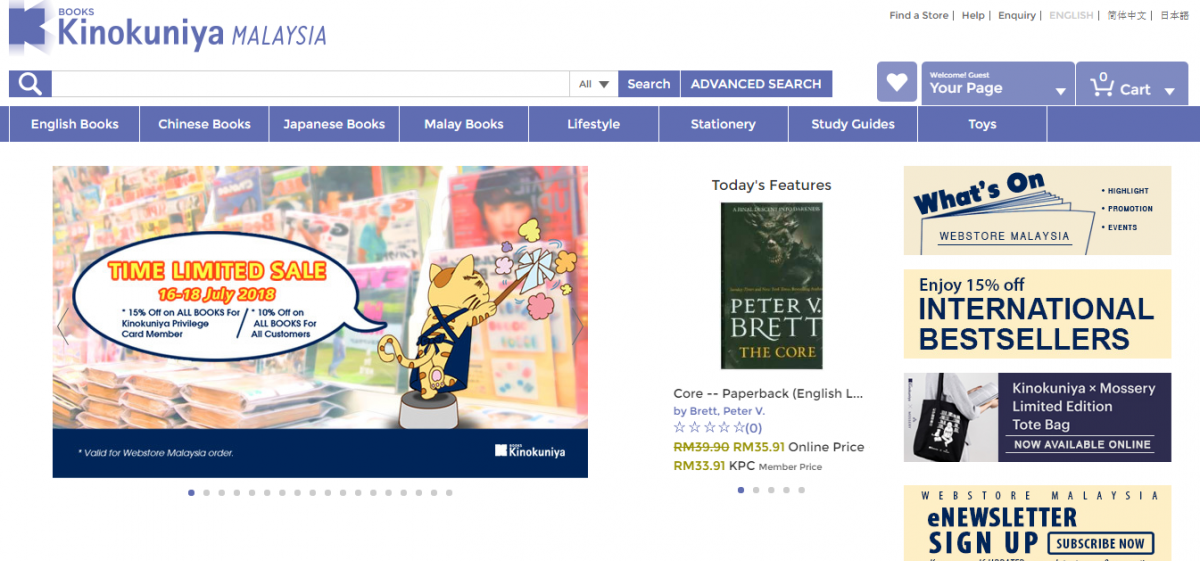 Weaknesses
Shipping is only free for deliveries within Malaysia with a RM120 minimum spend. Otherwise, it is RM8 for deliveries to West Malaysia, and RM14 to East Malaysia. As of 20 June 2018, each additional item to be delivered to East Malaysia will incur a RM2 charge.
Another drawback of the Kinokuniya web store is that it offers books only in three languages – English, Japanese and Chinese. We're not sure if user ratings were only introduced recently, but many books on the site have 0 reviews and ratings.
Strengths
Shoppers with Kinokuniya privilege cards can shop the site at lower prices. There are more than a dozen subcategories under each language category like Children, Food & Drink, Religion, etc. The website is available in three languages – English, Mandarin, and Japanese. You'll also be able to buy tote bags, notebooks, and toys here.
A prominent search bar is available at the top that makes it much easier to find books and the book covers of all the new books are displayed in an attractive banner at the top. All in all, the website is simple and easy to navigate.
Website: malaysia.kinokuniya.com
4. MPH Online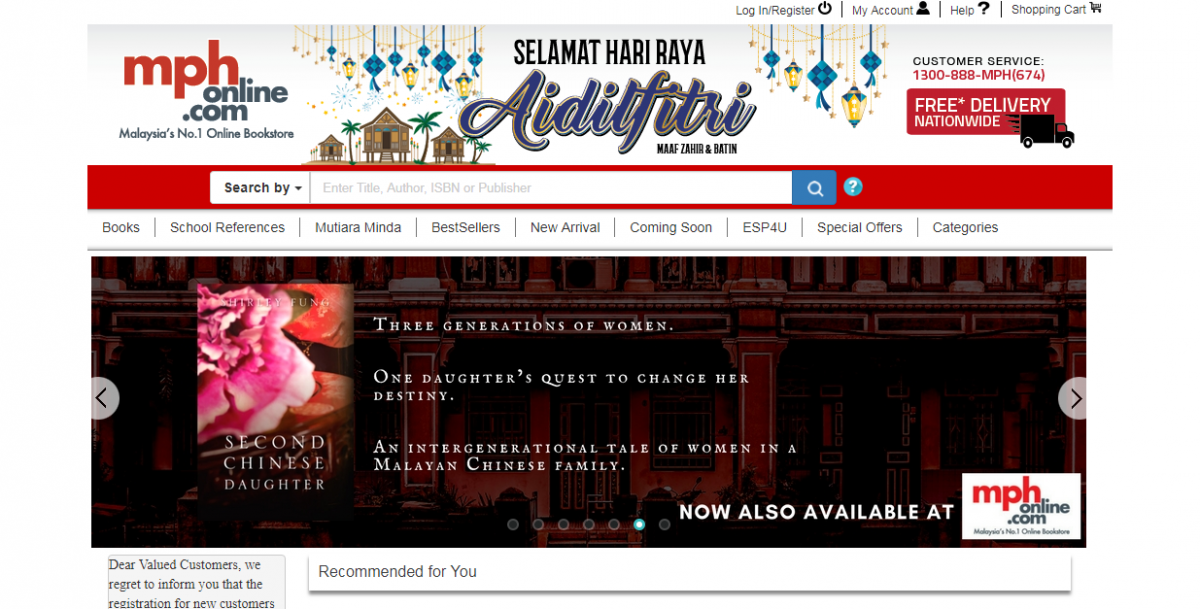 Weaknesses
For West Malaysia, shipment is free on orders above RM120 for non-members and RM80 for members. For orders less than the stipulated amount, the company charges RM7 per shipment.
For East Malaysia, free shipping is available for orders above RM120 for non-members and RM80 for members. Orders above the stipulated amount enjoy free shipping with no additional handling fee. For orders less than the stipulated amount, the company charges RM12 per shipment, with an additional RM3 handling fee per book (both members and non-members).
We encountered a strange error – after clicking on the 'Categories' tab and scrolling down, only the book-related links worked to bring us to a related page. Starting from 'Stationeries and Office Tools' and below, all the links brought us to another page 'ww12.esp4u.com'.
Strengths
You can expect your orders to reach within 3 to 5 business days. Apart from books, the website also offers stationery, office supplies, toys, and games. The website features a prominent search bar at the top where you'll be able to search for a book by title, author, ISBN, or publisher.
Website: mphonline.com
 5. BookXcess Online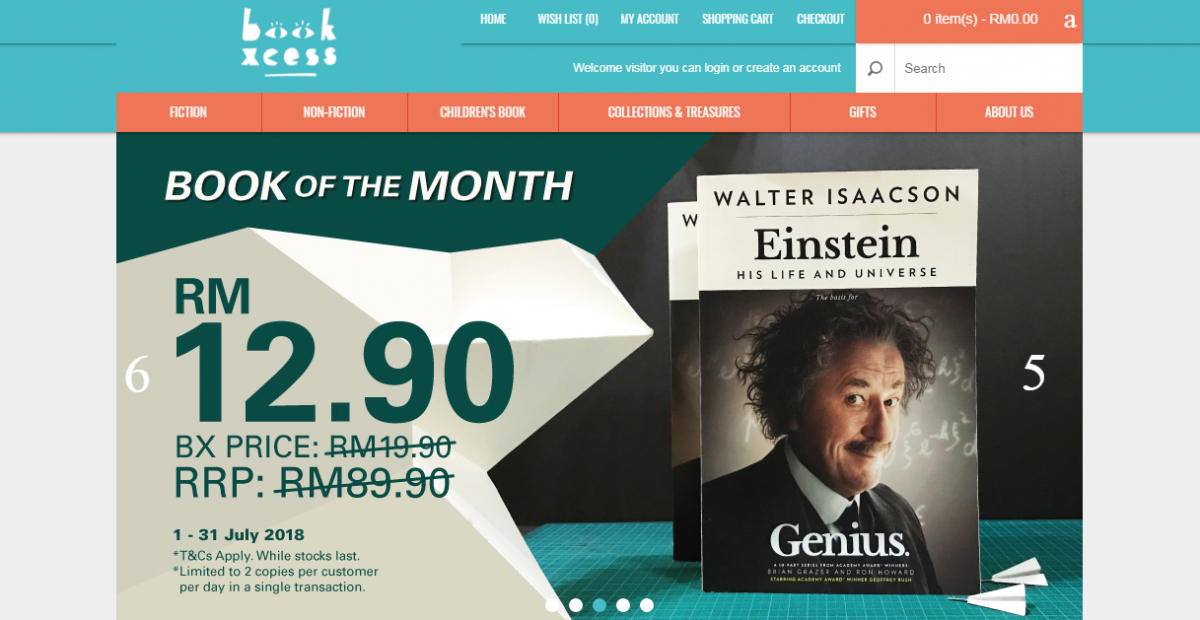 Weaknesses
Since BookXcess sells only over-printed and over-stocked books, they do not always have the latest books. If looking for a newly-released title, this might not be the best place to look.
Shipping costs are calculated on a order-to-order basis based on the delivery address and weight or dimensions of the books in the order. Deliveries typically take 3 to 5 business day. Free shipping is available for orders within Peninsular Malaysia that are above RM300, and which does not exceed 25kg in weight. There's also the option to self-collect your online order at the Book Xcess warehouse in Shah Alam.
Strengths
BookXcess is a great place to look for discounted books. They sell books at a much cheaper rate than any other bookstore in the country. How, you ask? They basically purchase overstocked books at low prices from other major bookstores, so that same low price is enjoyed by shoppers of Book Xcess.
Book Xcess members enjoy a 5% discount for purchases above RM50 and a 10% discount for purchases above RM150. The website is easy on the eyes and navigation is simple. Categories are clearly listed at the top of the page – Fiction, Non-fiction, Children's books, Collections and treasures, and Gifts.
Website: bookxcessonline.com
6. Bookurve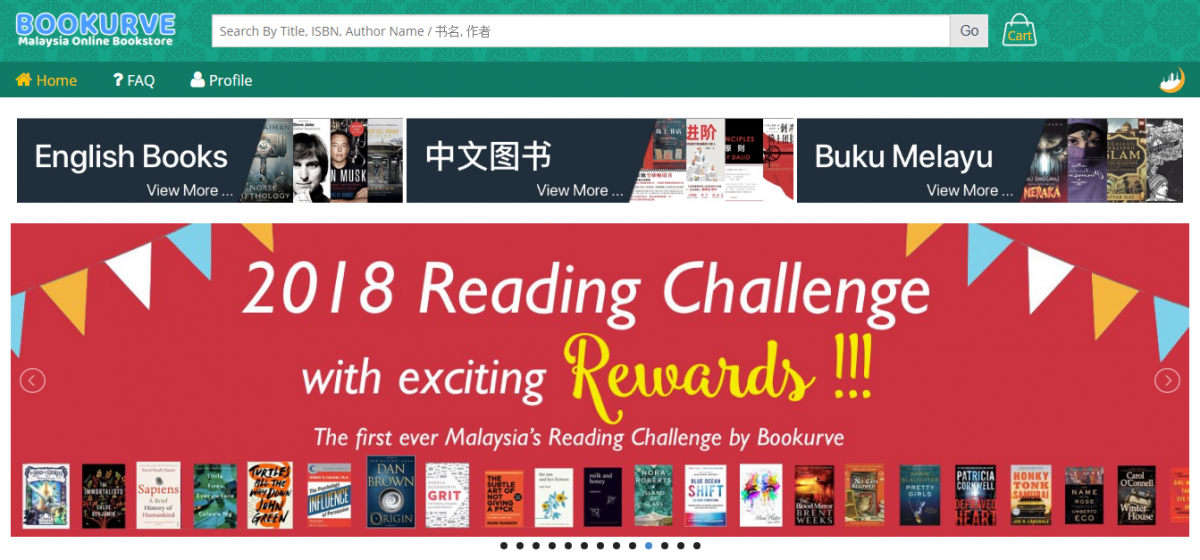 Weaknesses
Navigating the site is a little tricky, too. Books are categorised first by the language it is written in (English, Mandarin, or Bahasa Melayu) and only once clicked into your chosen language, will you be able to see the other categories on the left side of the page. Once here, the marketplace option can be accessed by scrolling all the way to the bottom. Reviews are difficult to locate, and fall under the section called 'Recommended by Readers'.
Shipping is free in Peninsular Malaysia for orders above RM25 while shipping to West Malaysia will incur a small shipping fee (not specified).
Strengths
The website has a search bar right on top that enables users to search for books via title, author, or ISBN number. In terms of availability, the site seems to have a decent range of titles. There are puzzles for sale here too. The marketplace for pre-loved books offer good prices if you that's what you're after.
Website: bookurve.com
7. OpenTrolley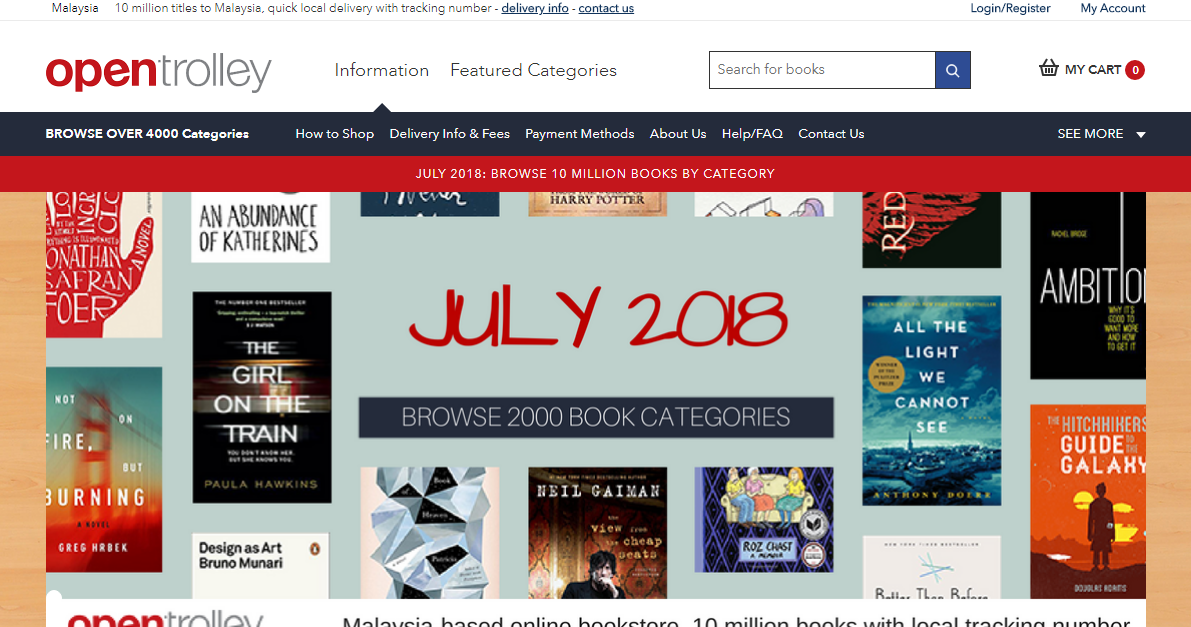 OpenTrolley is an online bookstore that started in Singapore in 2008. It has since expanded to Malaysia and Indonesia.
Weaknesses
Shipping is chargeable at RM12 per order to all states in West Malaysia, however some postcodes might not be serviced. They currently don't ship to East Malaysia either. Shipping will take 7 to 10 working days via a local courier with a tracking number. Shoppers have to sign up as members (membership is free) before being able to purchase anything. Unfortunately, there are no user ratings or reviews.
Strengths
OpenTrolley offers over 10 million titles, with books in over 4,000 subcategories. Their collection is impressively comprehensive, with books catered to many niches ranging from performing arts and political science to nature and architecture. You'll almost definitely find what you're looking for.
Website: opentrolley.com.my
See Also: 
*This article has been updated and was originally posted on Feb 3, 2016 by ExpatGo Staff.
---
"ExpatGo welcomes and encourages comments, input, and divergent opinions. However, we kindly request that you use suitable language in your comments, and refrain from any sort of personal attack, hate speech, or disparaging rhetoric. Comments not in line with this are subject to removal from the site. "
Comments