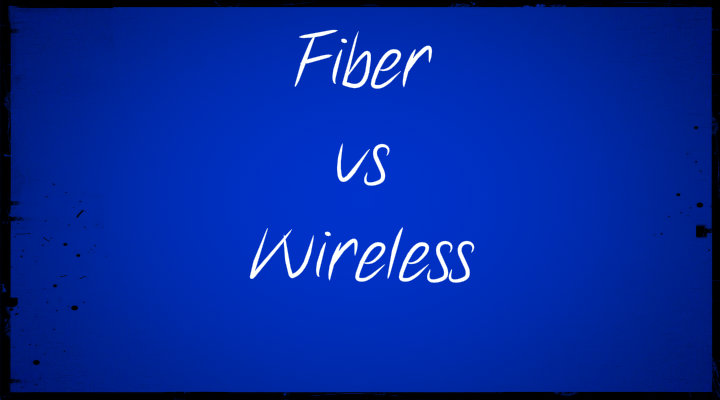 Many Telecom companies in Malaysia offer different types of broadband technologies. You may have heard of fiber broadband and wireless broadband services but are probably unaware of the differences. Some companies only offer fiber broadband, some only offer wireless broadband, and some offer both.
Here is a brief explanation about the differences between fiber and wireless broadband services.
SEE ALSO: What Is The Best Broadband In Malaysia For You?

Strengths of Fiber Broadband
Faster
First and foremost, fiber broadband is typically much faster than wireless broadband packages. Moreover, as the number of users increase at a wireless access point, the speed can decrease even more and this is not an issue at all with fiber broadband. The industry standard for fiber optic broadband is 10 GB/second, and broadband speeds can be increased even more by bonding fiber optic pairs. On the other hand, the maximum theoretical speed of a wireless access point is only 150 Mb/sec.  Currently, one of the fastest wireless broadband technologies in Malaysia is 4G LTE.
More Reliable
Fiber broadband is also more reliable as data in fiber optics is very resilient to interferences. Wireless broadband technology uses radio waves to transmit signals and these signals can become interfered with by buildings, weather patterns and other large objects.  Fiber broadband can also be much more secure and does not require passwords and encryption codes.
Better Quota Restrictions
Most companies offer more data download and upload limits for fiber broadband than wireless broadband package.  Furthermore, many telecom companies are currently not enforcing the data limits assigned to fiber packages.   
Strengths of Wireless Broadband
Better Mobility
Wireless broadband services provide for greater mobility.  The modem connects to the internet wirelessly, unlike fibre which requires a special connection to the wall.  That being said, you can still setup a WiFi unit with your fibre broadband connection, so that devices in close vicinity can access the internet wirelessly.  However, the wireless broadband' modem allows you to connect the internet anywhere – so long as there is a power supply and the area is covered by the telecom provider.
This can be important if you need wireless internet access on the go.  Additionally, if you plan to move within two years from purchasing a broadband service, you may prefer wireless packages, because fiber packages typically require an additional fee (typically RM 500) to reinstall the broadband connection into your new location.
See Also: MiFi in Malaysia: An Overview of Portable WiFi Services
Better Contract Durations
Postpaid wireless broadband services typically let you choose between 6 months to two year contracts (a longer contract usually means a lower price). On the other hand, nearly all fiber broadband service providers usually require you to purchase two year contracts.  Clearly a much stronger commitment is required.
Offers Pay-As-You-Use Plans
If you want a broadband plan that requires no contract, then you should consider wireless broadband plans.  With these broadband plans you pay access to a certain amount of internet usage.  When evaluated on a cost per unit basis, these plans will be more expensive than postpaid plans.  However, if you use the internet infrequently, need access only at certain times, or want to avoid contractual commitments, then this could be a better option.
Verdict
As you can see both types of broadband services have their strengths and weaknesses.  Hopefully the factors above will help you make a decision.  One other important factor you'll need to consider is the area of coverage offered by the telecom company.  Depending on where you live, you may only have options for either fiber or wireless.
What advice can you offer about choosing a type of broadband service?  Share a thought in the comments below.  Also, stay in touch with us, Leaping Post, by registering for our free e-newsletter here.
 Here are some fiber broadband options in Malaysia:
Here are some wireless broadband options in Malaysia:
---
"ExpatGo welcomes and encourages comments, input, and divergent opinions. However, we kindly request that you use suitable language in your comments, and refrain from any sort of personal attack, hate speech, or disparaging rhetoric. Comments not in line with this are subject to removal from the site. "
Comments