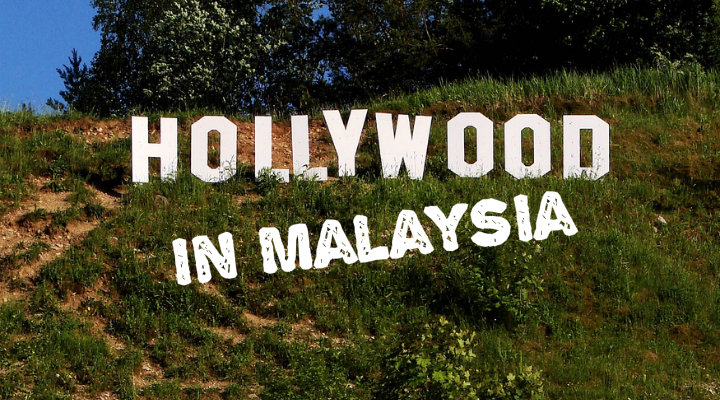 Malaysia's scenery of the modern and traditional, the West and the East, has caught the attention of Hollywood directors in several instances.
Here is a list of seven Hollywood movies with scenes filmed in Malaysia. Furthermore, we've provided links for you to purchase the DVDs or Blu-rays on Amazon.com, which ships those products directly to addresses in Malaysia!
SEE ALSO: The Most Shared Videos Online
1. South Pacific
Release Year: 1958
Starring: Rossano Brazzi and Mitzi Gaynor
There is some controversy surrounding where this movie was filmed and whether the Malaysian landscape did make it into the final cut. Shot in 1958, this musical is said to be shot in various different tropical nations and islands. Experts do believe that some of the scenes were in fact filmed in Malaysia, making this one of the first Hollywood movies to be filmed in the country.
This movie takes place on an island and includes two romantic stories: one between a Navy nurse and a rich French plantation owner, and the second between a native island girl and a young American military officer.
Learn more and/or purchase South Pacific on Blu-ray at Amazon.com
.
2. Indochine
Release Year: 1991
Starring: Catherine Deneuve and Vincent Perez
French cinema has always been lauded for its style and sensitivity. Indochine was one of the hallmarks of French cinema having won the Best Foreign Language award at the Academy Awards in 1992.
Indochine starred one of the most famous French actresses of our generation – Catherine Deneuve and Vincent Pérez. This movie follows the lives of Élaine Devries – a French plantation owner in Vietnam, her adopted daughter – Camille and her lover – Jean Baptiste Le Guen.
Although the story takes place in Vietnam, the movie was shot mostly in Malaysia. As the movie was set in French colonial Vietnam, temporary sets were used to create most of the scenes. However, you can still visit some of the sites in Penang, Sham Alam, and Ipoh, where the movie was filmed.
Learn more and/or purchase Indochine on DVD from Amazon.com
.
3. Beyond Rangoon
Release Year: 1995
Starring: Patricia Arquette and U Aung Ko
Beyond Rangoon is a fictional story about an American doctor named Laura who is persuaded to visit Rangoon, Myanmar, to progress from a tragic past. During her trip, in the year 1988, she becomes witness to a critical and violent part of Myanmar's history – the military dictatorship brutally cracking down on the rising democracy movement. The rapidly unstable conditions compel and inspire Laura to help and survive.
Even though the movie is set in Myanmar, it was mostly filmed in Malaysia.
Learn more and/or purchase Beyond Rangoon on DVD at Amazon.com
.
4. Anna and the King
Release Year: 1999
Starring: Jodie Foster, Chow Yun-Fat, and Syed Alwi
This movie is well-known for is beautiful backdrops and scenic beauty, which are as important as the characters and the plot. Anna and the King was primarily shot in Penang, Shah Alam, and Parit.
Starring Oscar winner, Jodie Foster, and most famous Asian export to Hollywood – Chow Yun Fat, this movie tells the tale of the relationship between King Mongkut – a Thai king, and British schoolteacher Anna Leonowens. Although this movie is based on Thailand, like the two previous interpretations of this tale, it was banned in Thailand. The filming crew was not allowed to film the movie in Thailand, and as a result the production and filming crew chose Malaysia.
If you are an avid fan of the movie, you can visit some of the locations where scenes from this movie were filmed. You can visit the Penang Town Hall, Rumah Besar Bapan, Armenian street, and more.
Learn more and/or purchase Anna and the King on DVD from Amazon.com.
5. Entrapment
Release Year: 1999
Starring: Sean Connery and Catherine Zeta-Jones
This movie may not have wowed critics or fans, but having been nominated for the Razzies, it does feature some beautiful shots of Malaysia. It also stars world-renowned actor Sean Connery and actress Catherine Zeta-Jones.
The Petronas Twin Towers in Kuala Lumpur was heavily featured in the most action-packed scenes in the movie. The Melaka River can also be seen in the movie. However, this movie did manage to annoy some Malaysian movie fans with its depiction of distances between famous landmarks.
Learn more and/or purchase Entrapment on Blu-ray at Amazon.com
.
6. The Sleeping Dictionary
Release Year: 2003
Starring: Jessica Alba and Brenda Blethyn
The Sleeping Dictionary may not have been too famous, but it did receive some good reviews and was shot almost entirely in Malaysia. Directed by Guy Jenkin and released in 2003, this movie tells the story of a British man in the 1930s and his native lover, and how he learns the local language and culture from her. The movie is not historically accurate as at that time the White Rajahs controlled the region and not the British. Hugh Dancy and Jessica Alba play the lead roles.
Most of the movie was shot in Sarawak, Malaysia, especially around Batang Ai. You can even stay at the hotel where the crew stayed during filming, which is the Hilton Batang Ai Longhouse Resort.
Learn more and/or purchase The Sleeping Dictionary on DVD at Amazon.com
.
7. Fair Game
Release Year: 2010
Starring: Naomi Watts and Sean Penn
Fair Game is based on the true story of CIA officer Valerie Plame. The story unfolds the shocking drama that seized her life. When her husband Joe Wilson, a retired American ambassador, writes a news article challenging the basis for the United States war in Iraq, the White House leaks Valerie Plame's undercover CIA status to the press, resulting in dangerous consequences to her career, family, and international contacts.
The movie's opening scene is set and filmed in Malaysia.
Learn more and/or purchase Fair Game on Blu-ray at Amazon.com
.
Quite a few Chinese and Bollywood movies have also been filmed in Malaysia.
You can find other DVDs and movies on Amazon here
and have them shipped to Malaysia.
Any questions or thoughts? Post in the comments below. Also, stay in touch with us, Leaping Post, by registering for our free e-newsletter here.
SEE ALSO:
Photo credit: Marcus Vegas / Foter / CC BY-SA
---
"ExpatGo welcomes and encourages comments, input, and divergent opinions. However, we kindly request that you use suitable language in your comments, and refrain from any sort of personal attack, hate speech, or disparaging rhetoric. Comments not in line with this are subject to removal from the site. "
Comments