Ipoh may becoming a bit more trendy with the arrival of new restaurants and cafés – and a shout-out from Lonely Planet last year sure didn't hurt – but Paula Tan is reassured to find the old kopitiams of the town still serving up the family favourites as they have for generations. Join her on a food tour.
There's an old saying that the Chinese will eat everything except the table. Whether or not that's offensive probably depends on who you ask, but it's nevertheless a good thing to keep in mind when out on an Ipoh food trail adventure. As we drive past one vintage coffee shop after the other, packed with diners onto the pavement, the proverb pops back into my head, especially as I spy the mind-boggling variety of hawker food laid out on the tables. From innards to wantons, rojak to, strangely, crème caramel, Ipoh's oldest kopitiams are certainly moving with the times.
Start with dessert
Home to nearly 700,000 residents, Ipoh is technically Malaysia's third largest city, behind Kuala Lumpur and Penang island – not all urban areas in the country have official city status, mind you – but the food trail in Ipoh can be pleasantly confined to a relatively compact area. Our coffee shop gourmet jaunt across Ipoh begins on a sweltering Saturday afternoon down a quiet street in Ipoh Old Town.
Commemorating the town's glowing past in the tin mining industry, Jalan Bandar Timah (originally Leech Street) is where several of the city's most popular old kopitiams reside. Stepping into the half-century old Thean Chun, otherwise known as House of Mirrors, it takes a while to decide what to order, as everything looks so delicious. Having heard that the crème caramel is to die for, it is this dessert that we order first, forewarned that it is frequently sold out by noon.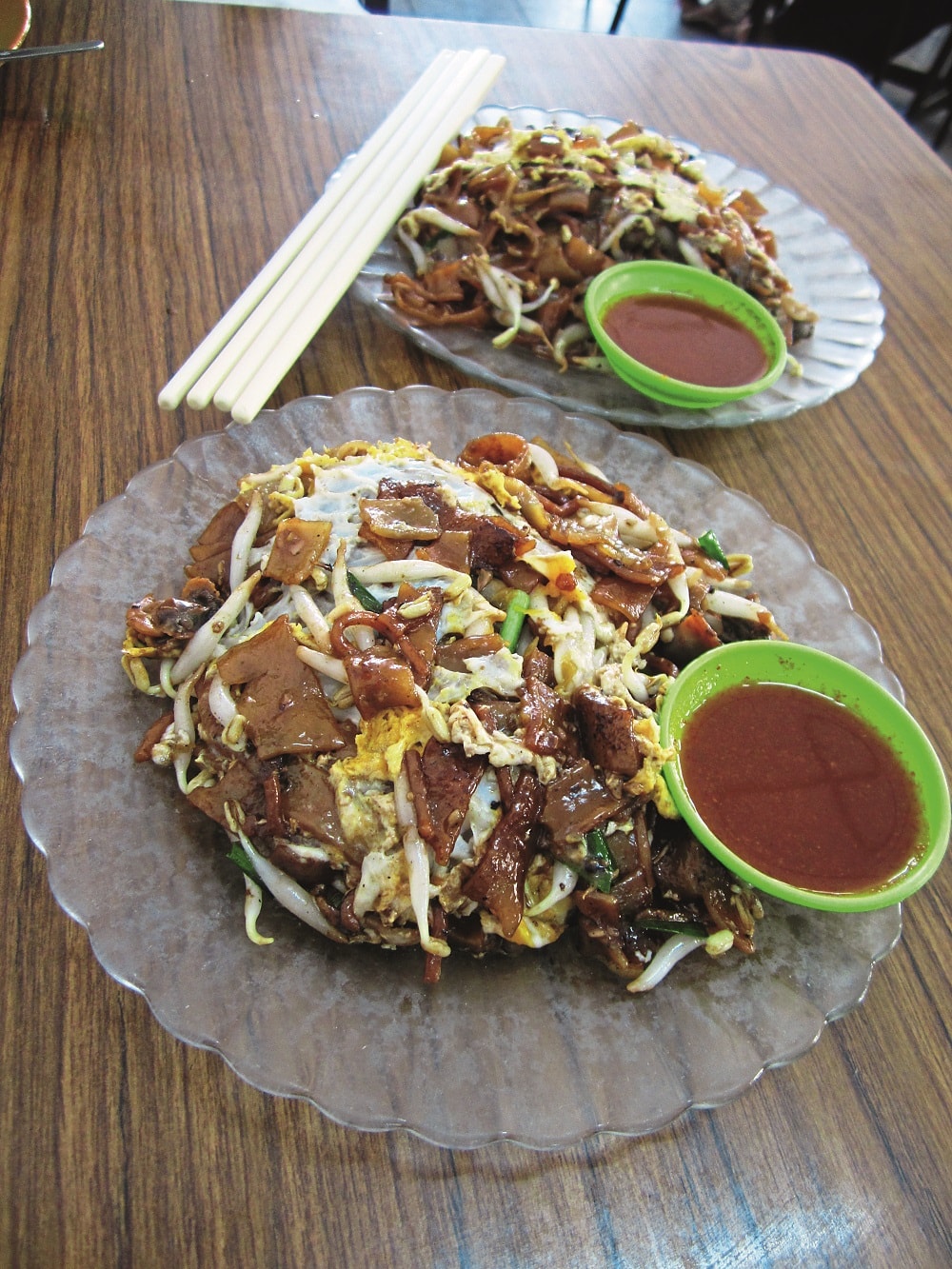 Reflected in the old, mercury spattered wall-to-wall mirrors, we enjoy a delectable lunch of curried chicken noodle in lush coconut curry gravy, packed with pork rind and beef balls.
We also enjoy the famous Ipoh kuey teow (kai see hor fun in a rich chicken broth) – a soup deemed by my partner in the same echelon as Kuala Lumpur's premium restaurants. The meal ends with mouthfuls of silky egg custard drenched in caramel sauce: common to look at, perhaps, but rightfully hailed as the best in town.
If you'd like a traditional food souvenir to take away, an excellent choice would be bak chang – a large glutinous rice dumpling wrapped in lotus leaves and available in several varieties (both sweet and savoury) at a pop-up stall directly in front of Thean Chun.
Filled with kidney beans and minced meat, the selection of bak chang at Madam Wong's stall even features the hard-to-find 'pillow' dumpling generally only found during festivals.
Across the lane
Divided from Thean Chun by a tiny lane is the Kong Heng kopitiam. The building which houses it was formerly the Dramatists' Hostel, built in the 1920s as accommodation for actors who performed at the Chinese Opera Theatre next door.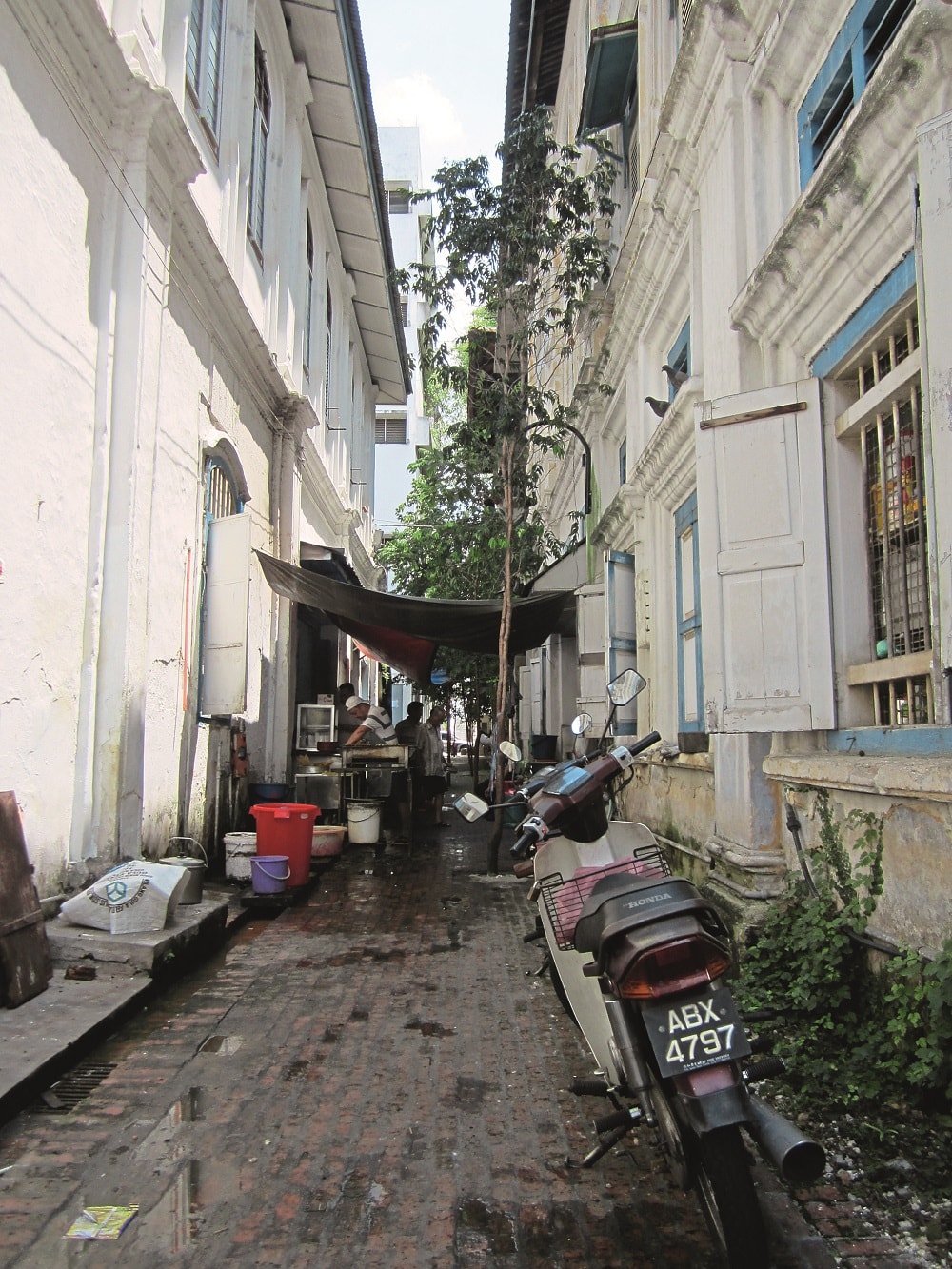 When walking past Kong Heng we are treated to a tantalising scent of pork and chicken satay wafting across the pavement.
Returning to the establishment later, we sample these skewers of juicy meat, grilled to flavourful perfection complete with crunchy burnt bits and accompanied by a lavish portion of peanut gravy. An interesting point to note is that customers only pay for the satay they eat. The remainder can be returned to the grill at no extra charge.
A testament to the fact that nothing beats experience is the small community of elderly hawkers who run this shop, all of whom are over the age of 50. Whether they order popiah, lor bak, and rojak or sotong, kangkung, and chicken rice with char siew and gizzards, customers are practically licking their plates clean.
The retirees who run the show prepare their fare within the shop or in the narrow lane outside, and are happy for you to cross-order food between the two restaurants that straddle the lane.
Post-lunch treats
After indulging at Kong Heng, be sure to walk round the back of the building to where Sekeping Kong Heng, a jaw-droppingly made-over shophouse from the early 1900s, has been turned into a one-of-a-kind hotel and art gallery. Follow your tour with a stroll down the road to where a kacang putih man still plies his crunchy snacks from the back of an old bicycle.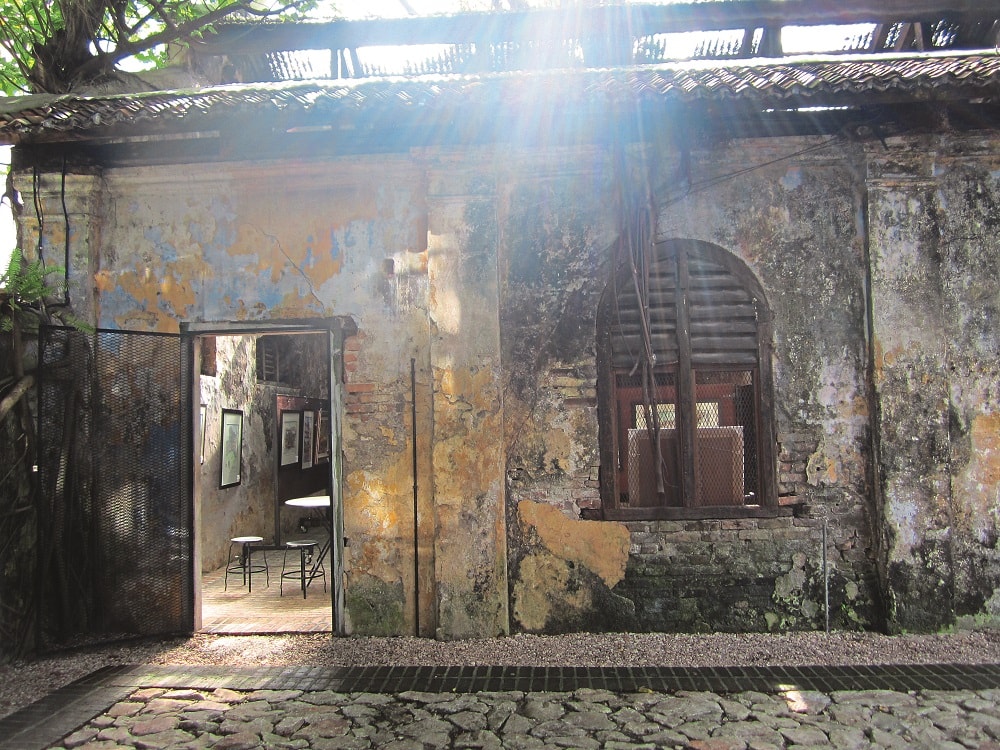 Opposite, right on the street corner, sits the Sin Yean Lee kopitiam, and if you are a char kuey teow enthusiast you'll be breathless when you see the plates of plump, egg-laden kuey teow that come served hot with lap cheong, beansprouts, and cockles. The establishment also features Ipoh-style chee cheong fun, with two types of noodles and liberal portions scattered with sesame seeds and fried shallots. An additional bonus comes in the form of asam laksa and pork-laden kuey teow thn'g, while definitely worth a mention is Sin Yean Lee's divine iced teh tarik, nearly as thick, frothy, and ice-cold as your favourite milkshake.
Age-old beverages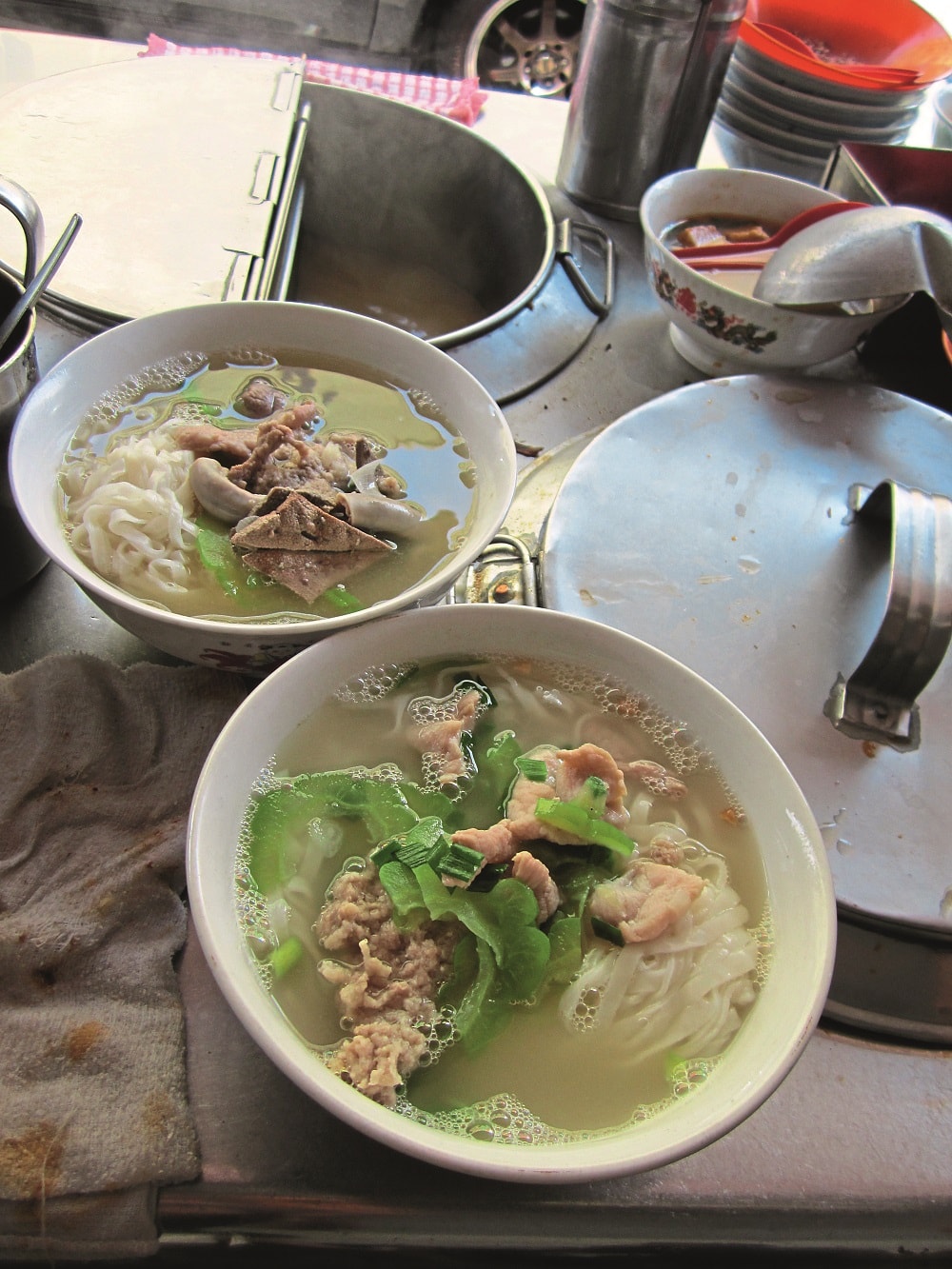 If a single serving of teh tarik has you craving more drinks, you simply must visit the nearby Sin Yoon Loong. The founder of this kopitiam was Wong Poh Chew, a Hainanese immigrant from China whose spirit led him to Ipoh in the early 1900s in search of a better life.
Taking a chance by setting up Sin Yoon Loong with his brother Poh Ting in 1937, he struck gold by fine-tuning their recipe for the perfect cup of coffee and the taste took Ipoh by storm.
To this day, Sin Yoon Loong still stands out above the crowd of Ipoh's myriad white coffee shops with its signature toast and muffins, both made in a fashion that only this decades-old kopitiam can deliver.
Muffins come marked O or L, and ooze accordingly with tangy orange or lemon cream, and are best enjoyed with a porcelain cup of Sin Yoon Loong's outstanding white coffee or milk tea.
The restaurant's white coffee is now so sought-after that it has been pre-packed for sale in supermarkets and sundry shops across Malaysia, but of course nothing beats sipping the handmade version, straight out of a cracked cup, at the establishment where it all began.
Sunset stalls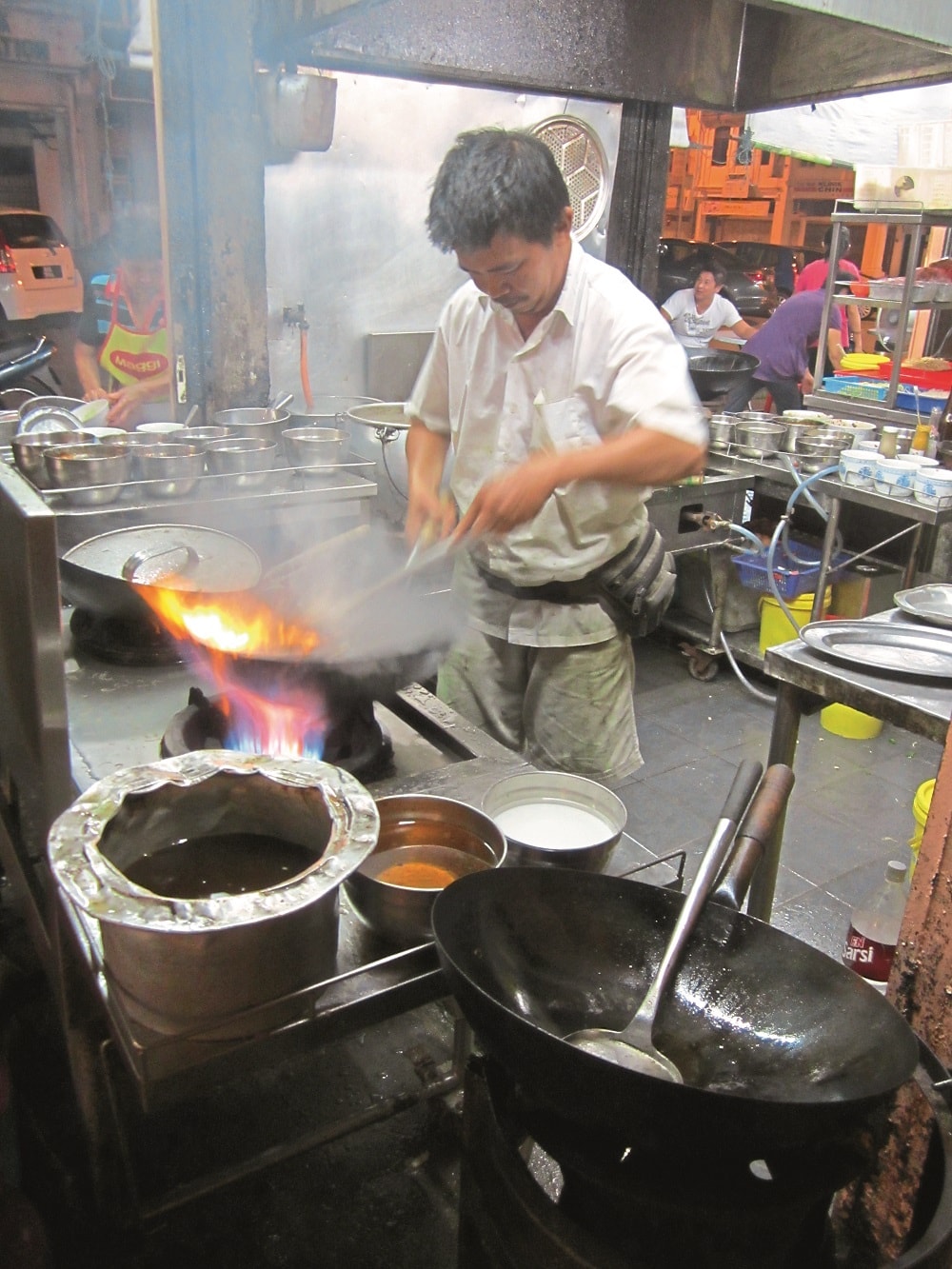 After dark, Ipoh's city streets divulge an array of secrets, and just metres from slumbering shophouses cloaked in darkness are brightly-lit lanes packed with tables, with diners enjoying their evening supper al fresco.
Worthy of a mention is Restaurant Sing Guang, the hokkien mee shop we stumbled upon close to midnight to discover a brisk business supplying to the many assembled diners steaming platters of luscious, dark, fried noodles, topped with tender chunks of chicken and a generous sprinkling of crunchy pork fat. Despite operating from a tiny kitchen, the enthusiastic cook fires up his wok from 4pm to midnight, every day of the week.
Across town, outside the Pasir Pinji wet market, a small group of hawkers spring to life after dusk. A favourite dish that still pulls the supper crowd is the claypot chicken rice – so popular you may have to wait up to 45 minutes for your order.
The owner of the stall is the antithesis of the usual chatty hawker, mumbling a few grouchy syllables at most in response to your requests, but he whips up a mean rice dish. He is usually flanked by his wife, who remains in the kitchen preparing the accompanying dishes that include blanched vegetables with oyster sauce and the less common gau kei soup, comprising sayur manis, egg drops, fish cake, meatballs, and shrimp.
Catering to a love of traditional sweets, the Woong Kee stall in Pasir Pinji serves a delectable tau foo fah nightly. This wobbly beancurd dessert served in a light, gingery syrup can also be found at the chain's other stalls in Bercham and Jalan Ali Pitchay (off Jalan Yang Kalsom).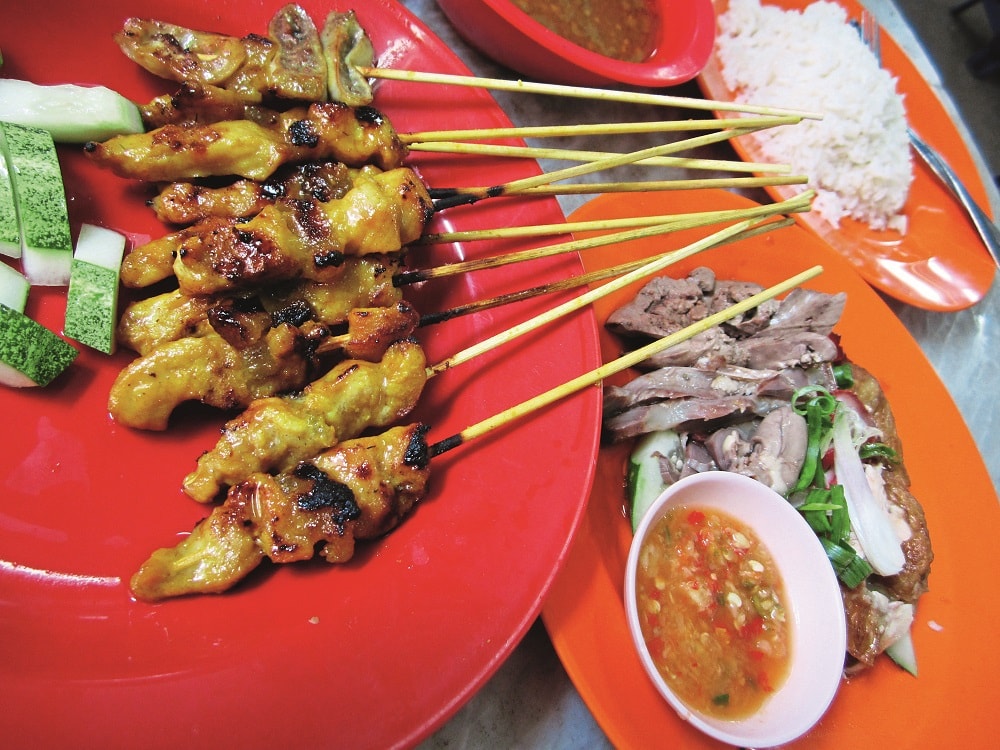 Directly opposite Woong Kee at Pasir Pinji is the Ah Pong stall, where the friendly female vendor has spent the last 22 years rustling up the ever popular apom. This is a local pancake-like snack that comes fragrant with coconut milk, and while it may be crispy around the sides, its winningly warm and soft in the center. Tempting as it sounds, the apom is just one of the many hawker delights to be found in this vicinity.
Wander the streets of Ipoh, and you will find many tasty morsels that have graced tables nationwide for the last century at least. While Ipoh is undoubtedly a sleepy town, its legacy of good food is wide awake, with hip new cafes springing up mere steps away from rusty metal awnings and only serving to strengthen the feeling of nostalgia for the old-timers.
As I wave back at the laughing lor bak vendor from behind the cloudy glass of her stall, there is no question on my mind that there will always be a place for this generation – and the next – behind the faded walls of this city's vintage kopitiams.
Fact File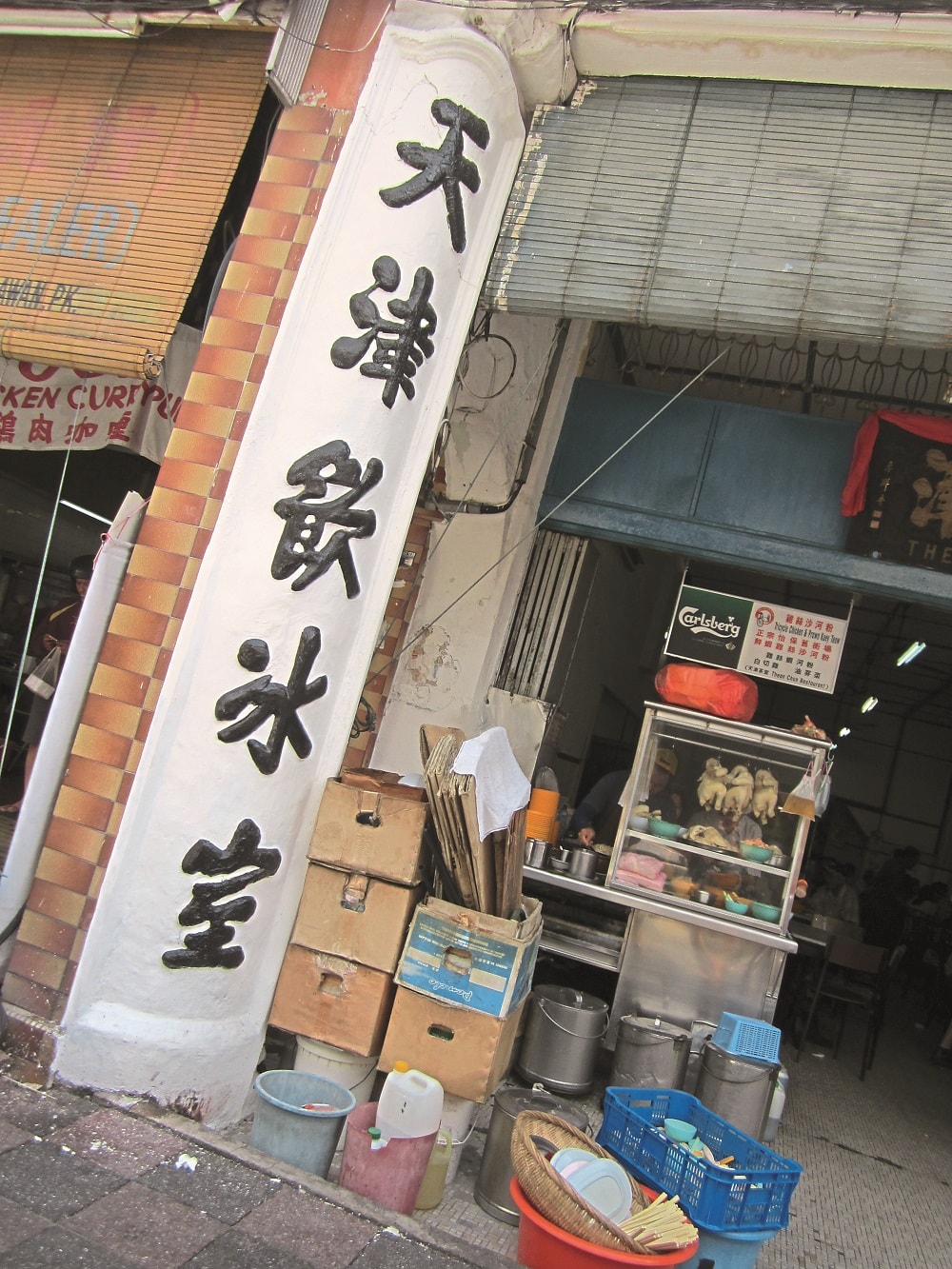 Thean Chun Restaurant (Hall Of Mirrors): 73 Jalan Bandar Timah, open 9.30am-2pm daily (except Thursday)
MadamWong's 6-In-1 Dumplings: Pop-up stall in front of Thean Chun Kopitiam, open daily 8am-12pm, +6017 5276 831 / +6019 923 6128
Kong Heng Restaurant: 75 Jalan Bandar Timah, open daily 7am – 4pm (except Wednesday)
Sin Yoon Loong Coffee Shop: 15A Jalan Bandar Timah, open daily 7am-4pm, www.mycofe.com.my/Yoon Loong Restaurant
Sin Guang Sidewalk Restaurant: 38 Jalan Loong Sin Nam, open daily 4pm-12am, +6012 5477 212
All Pasir Pinji hawker stalls mentioned in this article are located in Pasir Pinji on Jalan Queen. The Claypot Chicken Rice stall is open daily 5pm-9pm (except Mondays), while all other stalls operate in the evening. Note that little remains truly static in the world of F&B: hours of operation change, cooks come and go, and sometimes shops close down, either for holiday or for good.
The one thing to remember in Ipoh is that you'll never be far from a place serving good local food!
---
"ExpatGo welcomes and encourages comments, input, and divergent opinions. However, we kindly request that you use suitable language in your comments, and refrain from any sort of personal attack, hate speech, or disparaging rhetoric. Comments not in line with this are subject to removal from the site. "
Comments