I think most Malaysians are emotional eaters – that is, we eat when we feel emotions. With an eating schedule that closely resembles a hobbit's mealtimes, we tend to snack quite a bit and it's safe to say that we don't always eat healthy. We're getting better at it, though. If you're an expat who has stayed here for a while, you may have picked up this habit, and we don't blame you!
You might also find it frustrating that there isn't a large range of local and organic snacks available here compared to the United States and Europe. However, things are changing in Malaysia. More and more people are looking for healthier alternatives to their standard food products. Organic, free-range, local, and fair trade are the buzzwords and they have been for a while. We're eating more chia seeds, nuts, and grains, and reducing our intake of sugars, oils, and preserved foods. In our office, we particularly love granola.
Finding healthy granola made locally, which is also palatable, can be a hassle. So we've done some research and found some homegrown Malaysian brands that sell delicious granolas (and other goodies) that can satisfy our craving for munchies without needing to feel guilty for blowing your diet.
1. Fresco Grano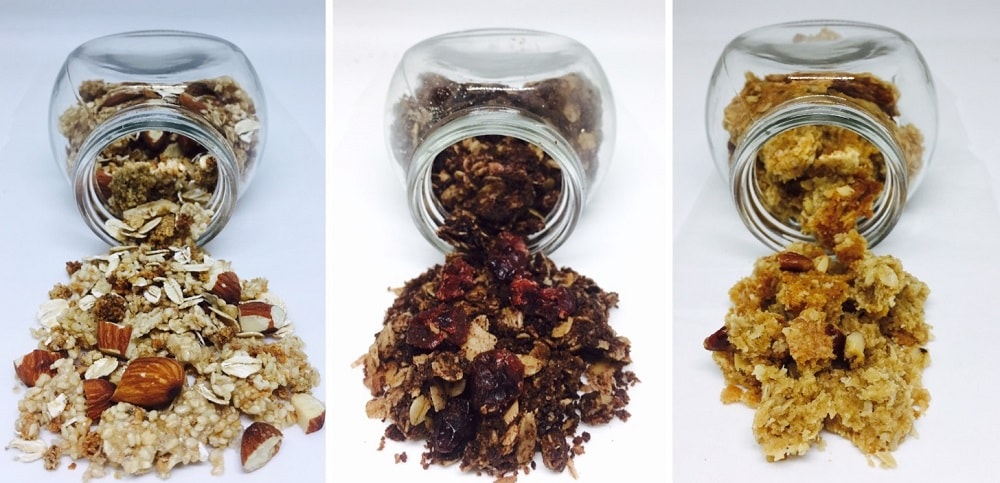 Fresco Grano was established to provide the Malaysian public with more options for organic baked goods. Starting off with organic baked breads that come in plain, seeded, and fruit varieties as well as cakes and muffins, they've expanded to include gluten free options as well as a range of granola, flours, and dry kitchen staples such as beans, dried fruits, grains, and seeds.
Fresco Grano also has five types of granola: Chocoholic Cheery, Awesome Apricot, Nutty Bananarama, Almond Toffee Snappers, and Crazy Quinoa Cranberry. We've tasted them all and it was uninamously agreed that Chocoholic Cherry was the winner. It tasted like the best chocolate cookie every – rich, crunchy, with a note of bitter chocolate. Another one we really loved was the Nutty Bananarama, so good you forget it's healthy! The rest of the flavours were also quite delicious, we have to say.
Fresco's granolas are great to eat on their own or with milk, yogurt, or as a topping for your chia seed pudding. The granolas cost RM17.90 – RM18.90 for 250gm, which we think is a fair price for homemade, organic granola. You can buy Fresco Grano granolas online as they do home delivery.
Website: fb.com/frescograno
2. Amazin' Graze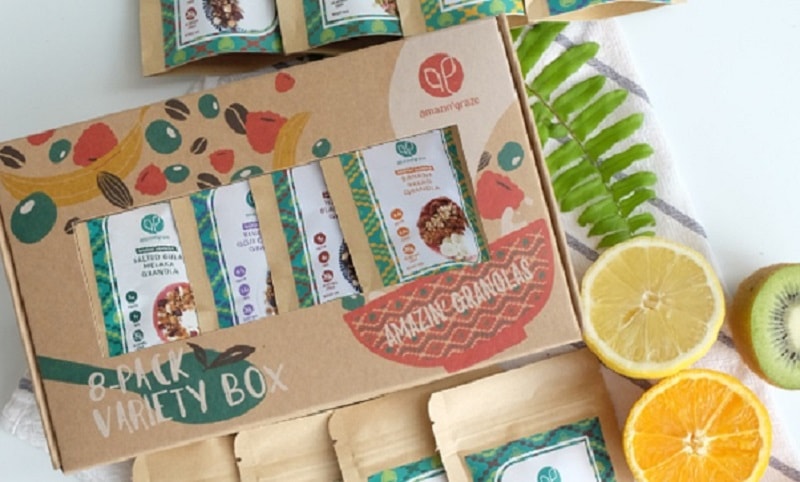 As far as we can recall, Amazin' Graze was one of the first local brands to rise up in the ranks of great granola makers. They offer a variety of crunchy, flavourful granola that is high in fibre and protein, 100% natural, free of refined sugar, and has a low glycemic index (see: slow release of energy). Amazin' Graze is available at several grocery stores like Jaya Grocer or you can order online from their website.
Some flavours that we love include the Hazelnut Blackforest, Mocha Latte Vanilla, Peanut Butter Choc Chip, and Salted Gula Melaka. They also have Matcha Green Tea, Pink Raspberry, Banana Bread, and Blueberry Goji Coconut. These granolas all make great crunchy snacks on their own or as a topping for your favourite yogurt. The granolas sell for RM19.90 (250g) to RM36.90 (500g).
Apart from granolas, Amazin' Graze also offers nut butters and nut mixes. If you want to try a little bit of every granola flavour, you can order their Amazin' Variety box which has smaller servings of all eight granola flavours.
Website: www.amazingraze.co
3. Granola Geeks
Founded by a couple of childhood friends with a mutual love of food and fitness, Granola Geeks offer tasty, granola snacks in colourful flavour combinations and punny names. The John Lemon & Coco Ono has lemon, poppy seeds, and coconut while the Hey Matcharena is a bright green combo of matcha and coconut. These granolas are crunchy and come in bigger chunks instead of the looser version. So if you like your granola chunky, this is the one you want. Granola Geeks come in 250g packs for RM18.
The other flavours they have include hojicha, white chocolate and orange, chocolate, chai and more. They also have sriracha nuts that are perfect for sriracha nuts! If you want to try a little of everything, they also have a snack pack variety package if you want to try a little bit of everything.
Website: granolageeks.com
4. Signature Snacks

Signature Snacks is actually a healthy snack subscription service, so they have a lot more than just granolas. They have nuts, trail mixes, dried fruits, cookies – all the good stuff, basically. There's a dizzying array of healthy snacks to choose from but we're zeroing in on the granolas. They have fun flavours like maple apple berries and espresso almond in their granola offerings. If you want them in bar form, Signature Snacks stocks a number of different brands of granola bars. BUT, they also make their own in Hawaiian Blueberry Crunch which is very, very tempting. The homemade granolas and granola bar come in 150g packs for RM20.
Website: www.signaturemarket.co
5. The Kettlebowl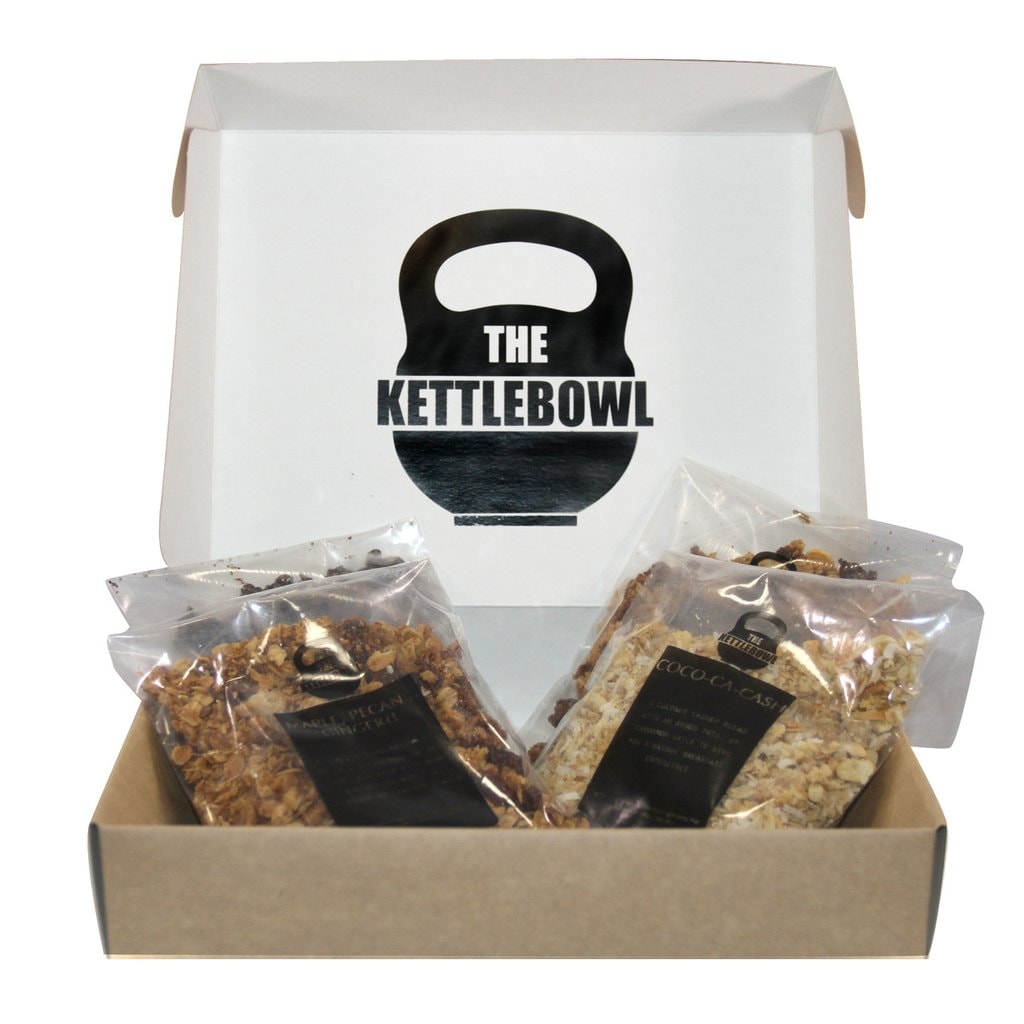 One of our readers led us to this particular brand and according to them, it's one of the best. After a little scroll through their site, we think they definitely have great potential (we've yet to try it, but we're hopeful). They make their granola in small batched each week to ensure quality and they use a combination of organic steel-cut oats form Germany and imported nuts from around the world. As the brand was founded by two cross-fit buddies, it's safe to say that The Kettlebowl ensures their granola is a healthy snack. Granola flavours on offer include apple crumble, chocolate, coconut, peanut butter and even maple ginger. They also have roasted nuts in two flavours: madu mustard almond and sweet chilli cashews.
Website: thekettlebowl.com
The only thing you should remember is to exercise self-control or you might end up 'snacking' on granola the whole day and end up blowing your daily calorie count out of the water. Now, keep calm and crunch on!
---
"ExpatGo welcomes and encourages comments, input, and divergent opinions. However, we kindly request that you use suitable language in your comments, and refrain from any sort of personal attack, hate speech, or disparaging rhetoric. Comments not in line with this are subject to removal from the site. "
Comments