Malaysia's second largest city after Kuala Lumpur and southernmost city in the peninsula, Johor Bahru has re-branded itself from a small border town to a sophisticated, rising star in tourism and business. The city is connected to Singapore via a causeway and is steadily shaping into a rival of its neighbouring city-state.
An important thing to remember is that weekends in Johor are on Friday and Saturday, while Sunday is a business day.
Entertainment in Johor Bahru
Like the rest of the country, JB has its own collection of pre-war and colonial buildings. From mosques that are over a hundred years old, like the Sultan Abu Bakar Mosque to JB's Old Chinese Temple built in 1875, this capital city is filled with sites that are a treat for history and architecture buffs.
JB also has a recreational waterfront area called Danga Bay which is being developed bit by bit. Right now, there are gold courses, paintball parks and motorsports activities in and around Danga Bay, which is also a conservation area. Of course, lounging around on some of the beaches and nearby islands such as Pulau Rawa is also a viable option.
One more nugget of joy in JB is Malaysia's oldest zoo, built in 1928 and originally called an animal garden. The zoo is still up and running and is home to over hundreds of species. The JB Zoo also features activities like horse riding and paddle boats, fun for young and old. Also not far away is the world-famous Legoland Malaysia and Hello Kitty Resort, about 30 minutes' drive from the centre of town.
See Also:
Dining in Johor Bahru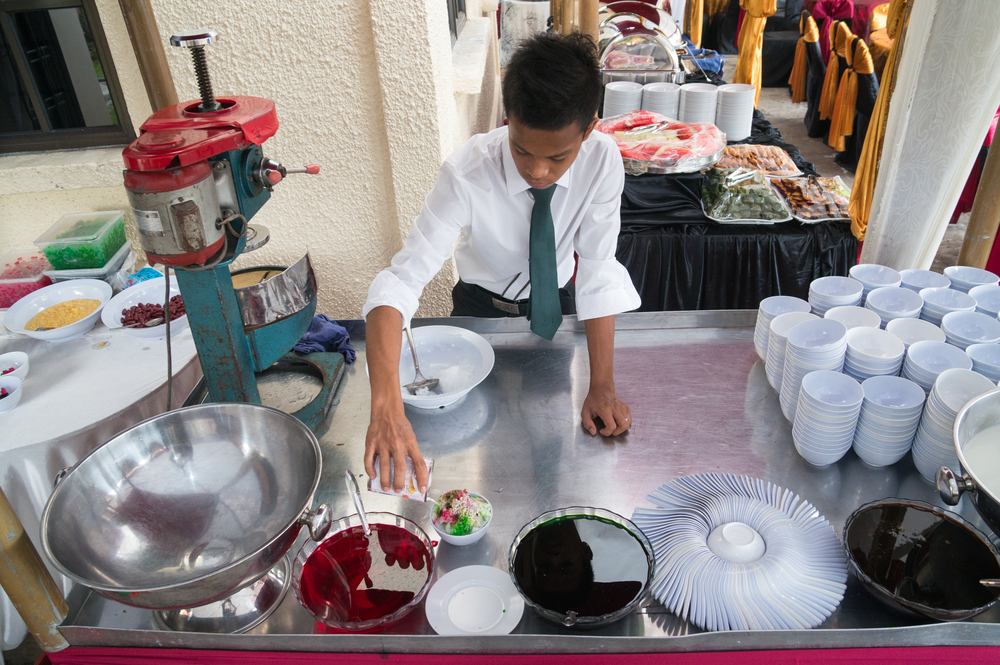 Johor is not immediately known as a culinary destination like Penang or a fusion cuisine haven like KL, but it does have some truly delicious food. Of course, there are numerous restaurants in JB that dish out cuisines from all over the world, including crowd favourites like Italian, French, Spanish and Thai. Also, coffee culture has been gaining traction in the city with a boom of trendy cafes serving specially brewed cuppas.
While JB showcases a wealth of different cuisines, local delights are not to be underestimated.  Inflected with influences from Arabic, Indian, Malay, Chinese, European, and Javanese cuisines, Johorean food is easily set apart from the cuisines of other Malaysian states.
Some treats that are special to Johor are kacang pool, pepes, assam pedas, and the city's own version of laksa (Laksa Johor) which is made using spaghetti instead of the regular yellow noodles.
See also:
Shopping in Johor Bahru
Shopping in JB is a treat, especially for Singaporeans who flock over the causeway to enjoy the cheaper prices. You'll find a number of huge shopping complexes like the Johor Premium Outlet, AEON Tebrau City Shopping Centre, and City Square Johor Bahru in the city. These malls all carry designer brands like DKNY, Coach, Adidas, Bike, and Burberry, as well as local and independent brands; you will be spoilt for choice.
You'll also find a wide array of restaurants for hungry shoppers, bookstores, and supermarkets in all the malls, and a cinema in the larger malls. You'll be able to shop at local markets where you can find fresh produce and cheaper (but not necessarily super-high quality!) household goods and clothes.
Nightlife in Johor
Even though the Johor weekend is on Friday and Satuday, the nightlife here is quite lively, partly thanks to its proximity to Singapore and the push for inter-country tourism. You'll be able to find nightclubs, bars, and pubs around the city that comes alive with locals and tourists.
A great spot for a night out is The Zon, a waterfront duty-free complex that houses a bunch of nightclubs, pubs, restaurants, and stores.
Housing and Property in Johor Bahru

Education in Johor Bahru
The education system in Malaysia is varied and mainly divided into public, private, and international schools. Public schools cost the least and usually comprises of teaching its students in the national curriculum, which primarily uses Bahasa Malaysia (the national language of Malaysia) as the means to teach its pupils while English is widely available as a secondary language.
Private schools are a lot more expensive and a majority of private schools use English. Private schools also have a more robust school schedule. There are a number of private schools in Johor like Hilltop Private Schools and Austin Heights Private and International School.

International schools are the most expensive option but are also the most popular among expats. There are many international schools to choose from, all offering varying curriculums and levels. The benefit of an international school is that expat children are able to learn about their home countries while making friends in both the local and international community. Some international schools in JB are Sri Ara Schools and Tenby Schools.
See Also:

Transportation in Johor Bahru
There's no rail transit in Johor just yet, though one is being planned to connect JB to Singapore. For now, you'll have to get around either by bus, taxis, or private cars and motorcycles.
You may get around on foot in heart of the city but the best option would be to drive or take a taxi. If you drive, you may even come across the Sultan of Johor, who loves driving around in his car or riding his motorcycle.

While buying a car is a practical choice for most locals, it is also the more expensive choice. Renting is possible, and even convenient for short-term stays, but purchasing is definitely better value if you're staying for longer than three months. Even though purchasing a car here is expensive, fuel is cheap thanks to government subsidies.
See Also:
Healthcare in Johor Bahru
Like any major city, JB is equipped with several hospitals and clinics, both government-run and private.
Healthcare institutions in Johor provide quality medical services and doctors usually speak fluent English. Many locals opt for a state-run hospital, although wealthier individuals often opt for private healthcare. Many of the clinics, however, are private ones and the prices aren't too steep in most cases.

There's no national healthcare scheme but foreigners can easily find local and international insurance agencies that cater to the international community. Also, under the Foreign Worker Hospitalization and Surgical Insurance Scheme, employers are obligated to provide insurance to their foreign employees.
Some private hospitals you can find in JB are Pelangi Medical Centre, KPJ Johor Specialist Hospital, and Medical Specialist Centre (JB).
See Also:
Safety in Johor Bahru
No city is without problems, and foreigners who are new to JB should take the same precautions they would in any other city and be aware of the bad apples who damage the city's credibility. Watch out for snatch theives, pickpockets – especially in tourist-heavy areas –  and taxi robberies. Make sure you know the police and ambulance emergency number here: 999.
Additionaly, there's an app created by the local police that you can download onto your smartphone. The app, MyDistress, allows you to send an SOS complete with GPS coordinates locked onto your phone so that local authorities can respond to your distress call as quick as possible.
See Also:

---
"ExpatGo welcomes and encourages comments, input, and divergent opinions. However, we kindly request that you use suitable language in your comments, and refrain from any sort of personal attack, hate speech, or disparaging rhetoric. Comments not in line with this are subject to removal from the site. "