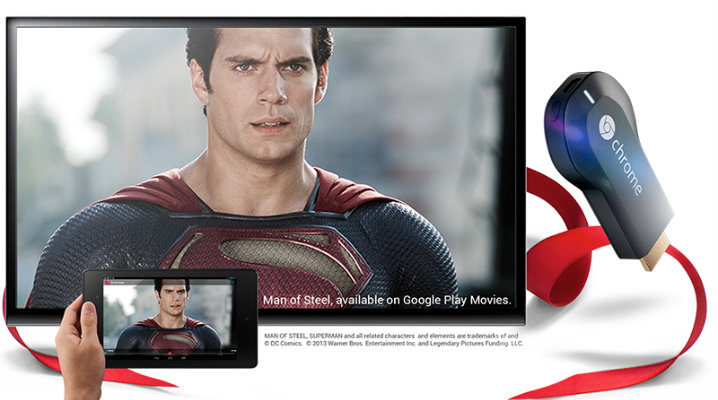 There are numerous ways to stream movies, music, and photographs from the Internet to HDTVs (Apple TV is a well known device). An increasing number of people are beginning to discover the joys of using online streaming services to enjoy movies, TV shows, and music. It was only a matter of time before Google joined the club by releasing Google Chromecast, a wireless HDMI device for streaming media content from you mobile device or computer onto your television set.
Since its inception, Google Chromecast has garnered a lot of attention in the United States. Chromecast was released on July 24, 2013 and was quickly sold out in Best Buy stores and online sites. Unfortunately, as of now, Chromecast isn't officially available for sale in Malaysia.
However, when I visited the United States during Christmas of 2013, I decided to purchase a Chromecast and bring it back with me to Malaysia. While you can use Chromecast in Malaysia, there are definitely some limitations. So, here's what you need to know about using Chromecast in Malaysia.
SEE ALSO: Top Websites to Watch Movies and TV Shows Online in Malaysia
What is Chromecast?
Google Chromecast is a small USB-like digital media device that lets you wirelessly stream media content from your computer, tablet, or smartphone. You can stream content primarily in two ways: via a Google Chrome web browser tab or through a supported Chromecast application. There is no separate remote; however, your device that controls the streaming content is the remote.
Best of all, Chromecast costs only $35 (~RM 117), compared to Apple TV which costs nearly a $100 (~RM 335). Unfortunately, Chromecast is not yet officially available in Malaysia and neither are several of the supported applications, such as Netflix, Hulu, and HBO Go.
Chromecast setup and compatibility
Chromecast is very easy to setup. You simply plug your Chromecast into any HDMI TV and then select your WiFi connection. The device is then ready to stream content, directed from your computer, tablet, or smartphone.
More specifically, devices that are compatible with Chromecast include, WiFi enabled Android 2.3+ smartphones and tablets; iPhones, iPads, and iPods; Chrome for Mac and Chrome for Windows; and Chromebook pixel.
What can you do with Chromecast?
Chromecast can be used for several purposes. Below is a list of the primary activities wherein you can use Chromecast.  You can actually do a lot more than what's covered below, but we're focusing on the essentials to avoid getting bogged down with techie-geeky.
1. Stream Media Content from Supported Chromecast Apps
Chromecast's ability to stream video content through supported apps is the areas where the device undoubtedly shines, especially with Netflix and YouTube. Currently, there are only 11 Chromecast-supported applications, but people expect that many more will be added in the near future. Streaming content through applications is more appealing because the content typically projects much better than other streaming methods, including mirroring content from a computer.  It's better because the content streams directly from the server, rather than mirroring the content from your computer, tablet, or smartphone, which needs more WiFi and processing power. In other words, when you use an app, your computer device essentially just becomes a remote, telling Chromecast what to do.  Chromecast will then download the content directly from the server.
Using Chromecast Apps in Malaysia: For us in Malaysia, the Chromecast supported apps are not all that appealing. The reason is that many of the popular apps, such as Netflix and Hulu, are not available in Malaysia. While there are ways to access Netflix in Malaysia, such as using a VPN, this doesn't work with Chromecast. The reason is that Chromecast has a built-in Google DNS, and there is no clear way to change its DNS. Also, it is not possible to stream Netflix from a Chrome browser tab.  The reason is that Netflix uses Silverlight audio, which doesn't work with Chrome's tab casting.  Therefore, unless you can somehow setup a VPN in a router, there isn't a way to play Netflix in Malaysia through Chromecast.

Fortunately, the YouTube App does work very well in Malaysia.  The video loads fast without lag.   Remember, when you use the YouTube app, Chromecast will stream the content directly from the server – not from your mobile device. So, your mobile device essentially becomes a remote, which means it won't consume as much battery and you can simultaneously use your mobile device for other purposes. Additionally, multiple users (i.e. mobile devices) can connect to one Chromecast via the YouTube apps. So, each of the users can play video, pause video, add videos to the playlist, and more, through each mobile device.
2. Stream Websites
Chromecast also lets you stream content from your Chrome web browser.  Note that you can only stream content from websites via your computer – not your smartphone or tablet. (If you want to use your smartphone or tablet with Chromecast, you need to use one of the Chromecast supported apps.) To stream content from a website, all you need is the Chrome web browser and the Chromecast extension.
When I experimented with streaming content to Chromecast from a web browser tab, I sometimes noticed a little bit of lag. I'm the type of person who enjoys high quality video in sync, so I would not recommend using Chromecast through a web browser. However, if you do need to project something from a website onto a TV screen, this functionality might come in handy.
3. Stream Media Content Saved on Your Computer
This last feature is not as widely known, and it isn't promoted by Google. However, it can be pretty cool, if you get it to work properly. With your Chrome web browser, you can actually open media content (videos, music, etc) that is saved on your computer, and play this content through the Chrome browser tab. You do need a fairly new or powerful computer to get this to work well. I tried doing this through my MacBook Pro, which is powerful, and I received a bit of a choppy presentation. However, in theory, streaming from a media file saved on your computer should perform better than streaming from a website. The reason behind this is that with media files saved on your computer, there is just one device using your WiFi. For website streaming, you're likely using your WiFi for two devices: to download the content to your computer and to simultaneously stream the content from your computer to the Chromecast device.
Should you buy Chromecast to use in Malaysia?
Chromecast is a media streaming device with a lot of potential. However, after buying the device in the States and then using it in Malaysia, I understand why it's not available for sale here. Chromecast works best when used with its supported apps, particularly Netflix, YouTube, and Hulu. Since Netflix and Hulu aren't available in Malaysia, and the video streaming sometimes suffers when streamed from the browser tab, I can't give a strong recommendation to buy a Chromecast device for use in Malaysia.
However, more Chromecast supported applications are expected to launch. There are also talks of Google officially launching the device in more international markets this year. So, if you want to be ahead of everyone else in Malaysia, or if you're happy using the device for streaming websites and media content saved on your computer, then you should consider buying it. Otherwise, it's probably best to wait and see how this device develops and if it officially launches in Malaysia.
Be sure to share your thoughts in the comments below.
RELATED ONLINE MEDIA ARTICLES:
MALAYSIA GUIDES:
READ MORE ABOUT: Tech in Malaysia
---
"ExpatGo welcomes and encourages comments, input, and divergent opinions. However, we kindly request that you use suitable language in your comments, and refrain from any sort of personal attack, hate speech, or disparaging rhetoric. Comments not in line with this are subject to removal from the site. "
Comments