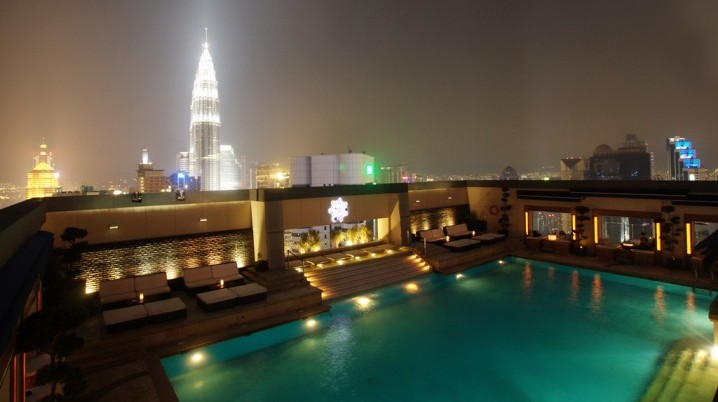 Everybody loves a great night out, right? Nevertheless, even when you have all the right ingredients it takes to make a night memorable, there may still be factors that can turn your plans sour. Here are 15 apps to ensure that your evening remains mess free and full of fun, perhaps even until the morning sun reminds you to head home!
1. Facebook/Facebook Messenger
Stay in touch with friends and organize plans
As the reigning king of social media, Facebook is the go-to platform for those who want to create a shared event. You can send out detailed invitations to your friends easily and quickly, which ensures that they will receive the invitation even if you plan something at the last moment. As an added bonus, Facebook provides a free Messenger app for Android and iPhone, allowing you to text and stay connected with your friends at no cost.
Availability:
Facebook: Free for iOS, Android, Windows Phone, BlackBerry
Facebook Messenger: Free for iOS and Android
2. WhatsApp/LINE/WeChat
Sends and receive free text messages
These three popular apps provide an alternative to your phone's default messaging function. They all offer free cross-platform messaging to individuals or groups, via your phone's data connection. However, while WhatsApp's sole offering is free text and voice messages, LINE and WeChat actually give users free voice calls and video chats, among other extra features. Of course, a friend needs to have the same app as you do so you can communicate with one another for free, but any one of these will ensure smooth communication between you and your mates throughout the whole night.
Availability:
WhatsApp: Free for iPhone, Android, Windows Phone, BlackBerry, Symbian, and Nokia S40
LINE: Free for iPhone, Android, Windows Phone, BlackBerry, Firefox OS, Nokia Asha, Windows, Mac OS X
WeChat: Free for iPhone, Android, Windows Phones, BlackBerry and Nokia S40 
3. Snapchat
Share moments without worrying keeping any records
We've all experienced that moment when our inhibitions were lowered (thanks to alcohol of course), and we said something we immediately wanted to take back. For those of you who wish to avoid future incidents like that, Snapchat is what you need. How does it work? You snap a video or photo of yourself, add a caption if you like, and then send it to a friend. Here is the catch: the message will instantaneously self-destruct once it is viewed (yes, just like in Mission Impossible). Since there is no way to retrieve a deleted message, the person who receives the message can't capture anything except by using a screenshot. So start Snapchatting away!
Availability: Free for iOS and Android
SEE ALSO: What is Snapchat and Why You Might Like It
4. Tinder
Hook-up with another person
The next big thing for online dating, Tinder is a location-based app that tries to connect you with individuals you may like by only allowing you to chat with people nearby. How does it work? The app shows you profiles of other Tinder users around the vicinity and you either like or dislike them. The catch? They have to like you back or you won't be able to chat with them. Tinder functions on the logic that if two anonymous individuals mutually "liking" each other, it must be a match. Maybe they are on to something here, who knows?
Availability: Free for iPhone and Android
5. Shazam/Soundhound
Identify that song you're listening to
Shazam or Soundhoud was probably created because the programmers were sick of saying, "Oh, I wish I knew what this song is." All you have to do is hold your phone up in the air, preferably as close to the music source as possible, and the app will analyse what it hears and tell you the artist's name, song, and album.
Availability:
Shazam: Free for iOS, Android, Windows Phone, BlackBerry, Nokia
SoundHound: Free for iOS, Android, Windows Phone, BlackBerry
SEE ALSO: Shazam: Get the Details of Every Song Hear
6. MyTeksi
Take a safe taxi in KL
Those not fortunate enough to own a car must sometimes rely on taxies for transportation. MyTeksi is a free app that helps you "hail" a cab quickly. Use your smartphone to get an estimated fare and easily book a taxi. You'll also get immediate confirmation of your driver's identification and location in real-time. You can use MyTeksi at any time of the day.
Availability: Free for iPhone, Android, Windows Phone
7. Uber
Take a premium car ride instantly – Toyotas, Nissans, BMWs, and Mercedes
If you want to be a little highfalutin when you're heading home after a night out in style, then don't even bother with the previous app. Install Uber instead. Aimed towards making your journey luxurious, Uber allows you to hire a private driver with a tap of a button, without the need for cash. Unfortunately, the vehicle options in Malaysia currently only include UberBlack, a sedan roomy enough for three or four people.
Availability: Free for iPhone and Android
SEE ALSO: How to Get a Free Luxury Car Ride in KL: Uber
8. Instagram
Take an awesome photograph to capture the moment
Instagram is an extremely popular photo-sharing app. With it, users can snap photos and share them with the world. Add hash tags to convey a specific theme, moment, feeling, emotion, or anything that comes to mind, really. Instagram also provides users with simple photo-editing functionality as well as a small array of photo filters. Social network connectivity is included of course.
Availability: Free for iPhone, Android, Windows Phone
9. Vine
Take an awesome short video to capture the moment
Owned by the social media mogul, Twitter, Vine is an app that lets you create and share short, looping videos. The app itself includes light video editing tools and your basic suite of social networking tools. You can browse other users profiles and find friends, or simply choose to share your stuff on Facebook and Twitter. Vine is to video what Instagram is to photos.
Availability: Free for iPhone and Android
10. Spotify
Get ready for the night by listening to your favorite songs
Spotify is a free music app that enables you to listen to music on demand. Unfortunately, it provides limited use for smartphone and tablet users who do not have Spotify Premium, only allowing free users to listen to radios and not on demand tracks (the free version comes with ads as well). By using either Wi-Fi or your device's cellular data connection, it lets you browse and discover a range of music. You can either stream music or download tracks for offline use (but take note that the latter function is only available to Spotify Premium users). Then there's Spotify Radio that can give you a great playlist at the tap of a button, based on the music that you like. It's a great app for when the night is dying down and you need a little music to spice things up.
Availability: Free for iOS and Android
SEE ALSO: 8 Reasons to Purchase Spotify's Premium Version
11. Waze
Never get lost with this GPS Map and keep informed about traffic jams
Google Maps might be go-to choice of free GPS navigation apps, but Waze is a different kind of GPS app altogether. Waze combines navigational functionality with social networking, and claims to be the world's largest community-based traffic and navigation app. With it, users can alert other users on traffic conditions, police roadblocks, accidents, and other road incidents in real-time. Waze's directions are pretty spot-on and useful in Malaysia, but a drawback is that the app typically directs drivers to major highways without taking smaller lanes, roads, and potential shortcuts into account. 
Availability: Free for iOS, Android, Windows Phone
SEE ALSO: Guide to 6 iPhone GPS Map Apps in Malaysia
12. Find My Friends (iOS only)
Keep informed of your friends' activities throughout KL
While this app is only available for iPhones, iPods, and iPads, it is a useful one to have when your group of friends are Apple users. Find My Friends allows you to track your friends' locations in real-time using Apple's Maps app, and allows you to set up location-based alerts that notify others when plans have changed. Comes in pretty useful as nights out often don't go according to plan!
Availability: iOS only
13. Google Translate
Communicate in all languages
Another useful app to have is Google Translate, especially if you aren't from around here. While most servers at bars and restaurants around the city will predominantly speak English, the app could still come in handy if you want to try and break the ice by throwing in some phrases in one of the local dialects. Additionally, it may help you decipher some signs printed in Malay.
Availability: Free for iOS and Android
14. Find My iPhone and Where's My Droid
Find your lost device
I've included these two apps into one entry simply because they each exist separately for iPhones and Androids. When a night gets out of hand and you end up losing your phone, having one of these apps preinstalled might very well help you find your lost phone. The apps allow you to track your phone's location, bar your phone with a passcode, erase all data, or even provide a custom "please return" message on the screen. This assumes, of course, that your phone is still powered on and is able to receive commands.
Availability:
Find My iPhone: Free for iOS
Where's My Droid: Free for Android
15. Snapseed
Capture a moment with another cool photograph
For the shutterbugs out there that like to quickly edit their photos and share them with the world, Snapseed is a free yet powerful photo-editing app. It comes with a host of features and filters, and lets you customize and edit your photos on the fly to your heart's content before posting them on Facebook or Instagram.
Availability: Free for iOS and Android
What are your favorite apps for a night out in KL? Post a thought in the comments below.
More 'App' Stories:
Malaysia Guides:
Photo credit: Shayan (USA) / Foter / CC BY
---
"ExpatGo welcomes and encourages comments, input, and divergent opinions. However, we kindly request that you use suitable language in your comments, and refrain from any sort of personal attack, hate speech, or disparaging rhetoric. Comments not in line with this are subject to removal from the site. "
Comments